I want to start shopping, how do i do this?
You need to be registered in order to purchase from our website. Not registered? Fear not! Go to  http://sowetofashionweek.com/my-account/ to register. Once registered you will receive an email welcoming you Soweto fashion week.
How much will I pay for shipping?
Shipping is 100% free for all deliveries in South Africa and the rest of the world.
What is the process after my order is submitted?
Your clothing item will be created and shipped to you.
How long will I have to wait for my delivery?
Soweto Fashion week strives to fulfill orders as soon as possible. Under normal circumstances, the time it takes from when an order is placed until it is dispatched for delivery, is approximately 14 working days.  Some deliveries may take longer if your location is further from a Main City Centre.
What do I need to present when I accept my delivery?
You will be requested on delivery to produce your ID and / or credit card for fraud prevention purposes. Also please note that all deliveries will only take place on a door to door basis and during office hours, Monday to Friday, 8am to 5pm. Soweto Fashion week along with it's Designers Aim to deliver on time as promised
How do I track my order?
Once Soweto fashion week has dispatched your order, we will send you an email containing the courier tracking number for your order, along with the courier contact details. Please note that we can only provide you with a tracking number the morning after your item has been dispatched.
What is the payment method?
During the checkout process you will be prompted to select a payment method. Soweto fashion week offers payments via credit card (Visa or Mastercard) and Instant EFT which allow you to safely perform and EFT from your online banking which includes the four major South African Banks ( FNB, STANDARD BANK, NEDBANK & ABSA).
How safe is Sowetofashionweek.com
After Checking out you will be redirected on to a page where you can enter your credit card details. As a general rule, whenever you enter sensitive info online such as credit card details always look at the URL field for a GREEN PADLOCK which shows in fact that page is secure.
We use Extended Validation SSL with 256-bit encryption. Only two of the four major South African banks use this, the highest, level of encryption currently available.
3D Secure is in place for all credit card transactions.
All sensitive info is encrypted.
SowetoFashion week's Payments are handled by PAYFAST.
What is 3D Secure?
3D Secure is an extra layer of security in using your credit card for online transactions. For online transactions over R1000 you'll be asked to enter your 3D Secure password (different from the PIN), which is called Verified by Visa and MasterCard SecureCode by the respective credit card companies.
You have to register for 3D Secure with your card issuing bank, and can be set up either as a password of your choice or a one-time-password that will be sent to you by email/SMS. Please click on your bank logo for information on how to set up 3D Secure with your bank, if you haven't already done so.
Activate your card with 3D Secure:
ABSA
CAPITEC
FNB
NEDBANK
STANDARD BANK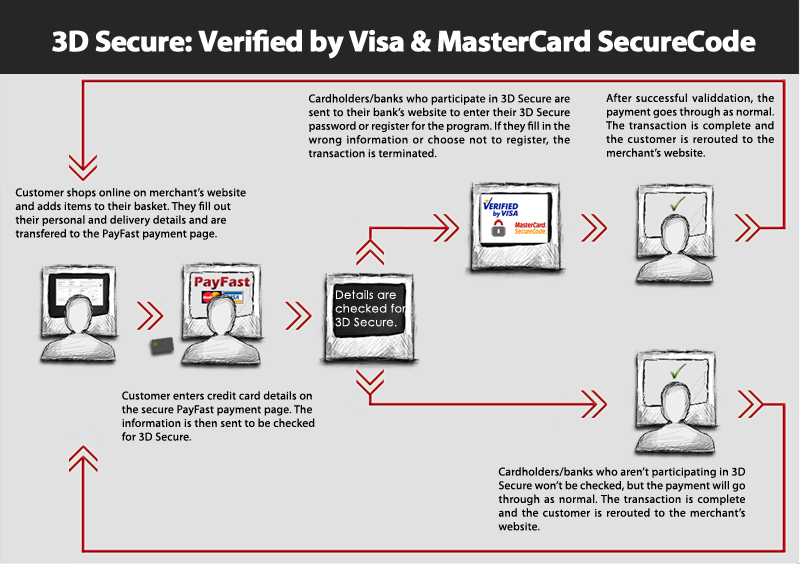 I bought goods from other online sites but when returned back for support, their sites do not exist. Will the same happen to you?
We understand completely that internet shopping can often be a nerve-wrecking experience. Feel free to e-mail Soweto fashion week on info@sowetofashionweek.com  if you have any questions or concerns, to put your mind at ease. Please note that if you have purchased products through other Sites, we  unfortunately can't assist, so please do your homework before purchasing online.
How do I contact Soweto Fashion week and what are your trading hours?
We have tried to make contacting us as simple as possible. You can use the e-mail info@sowetofashionweek.com form option by going to the "contact us" page.  Feel free to email us if you have any questions.
Our trading hours are Monday to Friday : 9am- 5pm (Excluding public holidays & Sundays)